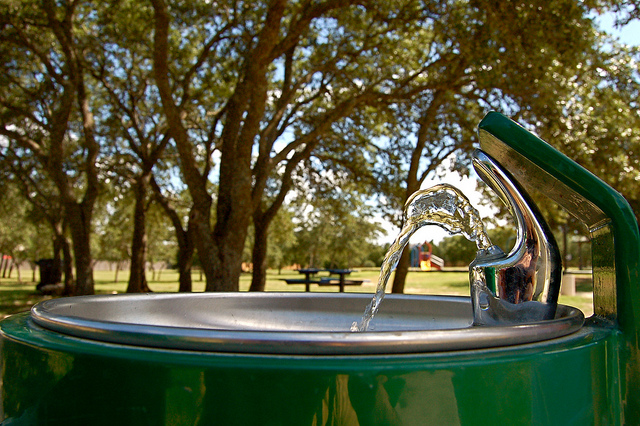 The United States is not run by godless Communists. Neither is most of the rest of the world. In fact, the godless Communists that do remain are not all that Communist anymore. I bring that up because command and control economies can dictate what development happens where. Land conservation under such a system is technically easier, even if the actual results in Communist nations like the Soviet Union weren't that inspiring. Land conservation in the free world is a trickier game, one played with carrots and sticks as opposed to edicts and directives. Here, money is your best friend.
Conservation organizations have focused on preserving big tracts of land, and rightfully so. Big buys are often more cost effective and easier to manage. But they're also becoming trickier to execute in a world dominated by curving cul-du-sacs and one acre lots. If we want functioning ecosystems in these places, we need to focus on land conservation within the subdivision, not along its borders.
Luckily, the carrot seems to be working in those places. A study of subdivisions in Maryland between Washington, D.C., and Baltimore shows that developers have been incorporating more open space into their subdivisions. That's not because they're interested in land conservation. Part of it is a bit of command and control—Maryland's Forest Conservation Act forces developers to conserve a modicum of forested land—but it's also simple economics. Developers can sell lots and houses at higher prices if open space is nearby. Because proximity matters, that open space typically needs to be within the subdivision.
To developers, though, that open space is fungible. It can exist either as public parks or larger private lots—both raise prices. The Maryland study also found that minimum lot sizes—which governments typically use to preserve open space—can push developers away from shared open space toward larger lot sizes.
This poses a problem for maintaining healthy ecosystems. Like many laws, the way the Maryland Forest Conservation Act is interpreted matters. People can uphold the letter of the law—maintaining forest cover—without changing their usual habits—mowing their entire lot. The result is something that looks like a forest from above but doesn't function like one.
In a perfect world, everyone would happily tend a few thousand square feet around their house and leave the rest to nature. But that's not always the case. People will spend all Saturday mowing acres of grass and grumble about it afterwards. That's because for many people owning a country manor is more alluring than owning a chunk of the great outdoors. You can fight that mentality by increasing minimum lot sizes to the point where mowing it all becomes completely unreasonable,¹ but the closer you get to a metro area, the less tenable that becomes.
There's also no guarantee that laws dictating minimum lot sizes will remain in place. As the city creeps closer, pressure to further subdivide will mount. Open space preserved in private lots could easily disappear.
Parks, on the other hand, tend to stick around. Unlike large lots, they're seldom subdivided. Instead, they tend to become institutions. People like their parks and are loathe to lose them—no one wants to see their neighborhood park disappear. So let's put that to use. Instead of—or in addition to—minimum forest cover and minimum lot sizes, let's institute minimum park sizes. Everyone will benefit. Developers will be able to sell lots at higher prices. Kids will have playgrounds. Adults will have walking paths. And because big parks often have big natural areas, ecosystems will have a better chance at surviving. It's a solution that's a bit more command and control than current vague regulations, but everyone will benefit. It's also more carrot than stick. Even if you don't particularly like carrots, it's better than getting hit with a stick.
---
Though there will always be exceptions—near where I grew up, one guy mowed 18 acres. He had to buy a bonafide farm tractor so it wouldn't take him all week. ↩
Photo by JD Hancock.
Source:
Lichtenberg, E., Tra, C., & Hardie, I. (2007). Land use regulation and the provision of open space in suburban residential subdivisions Journal of Environmental Economics and Management, 54 (2), 199-213 DOI: 10.1016/j.jeem.2007.02.001
Related posts:
An ecology of gardens and yards