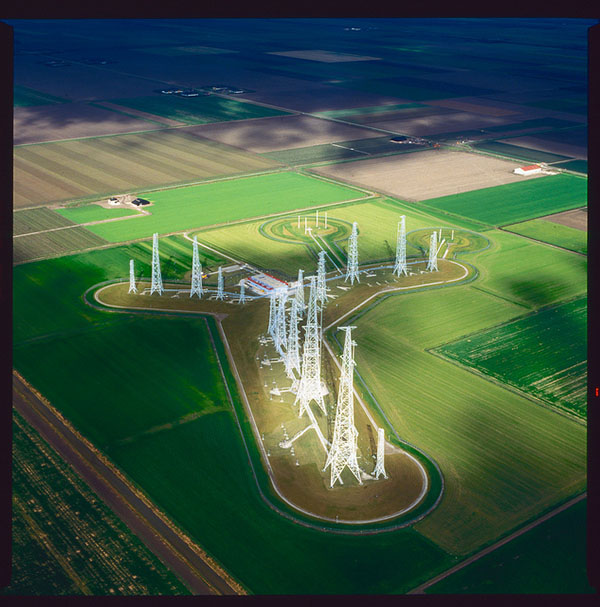 Farms today look nothing like the farms of 40 years ago. Thanks to market and policy changes along with advances in technology, they're larger, more mechanized, and more intensive. And while those factors will likely continue to affect farmers, there's another looming on the horizon—climate change.
Agriculture has already seen the effects of a warming world. For example, in 2011 Texas suffered from the worst one year drought in its history. The parched earth cracked and burned, water holes dried up, and Texas's iconic ranches lost 600,000 head of cattle. Economic losses topped $7 billion. Images of the drought are horrific. What Texas went through in just one year doesn't portend well for the future of agriculture.
Farmers aren't going to take climate change sitting down—they're going to adapt. But what those adaptations will look like is less clear. A team of agronomists from Wageningen University in the Netherlands tried to predict what farms in one part of their country will look like in 2050. Though the study is region-specific, their results offer a peek at how farms in temperate regions might adapt over the next 40 years and what farmers in developing countries might do to avoid the pitfalls of modern agriculture in a warming world.
The researchers focused on farms in the Netherlands' Flevoland province. Flevoland is, like much of the country, reclaimed from the sea. It grew out of the Zuiderzee Works project, which separated the inland Zuiderzee from the North Sea with a massive dam. The polders that make up Flevoland were specifically constructed to provide additional farmland. They were completed in three phases between 1942 and 1968.
The Wageningen researchers began by compiling data on various aspects of farms in the Flevoland, including their economic output, farming intensity, degree of specialization, and market niche (production-focused, conservation oriented, or entrepreneurial). They looked as far back as 1986 to see how Flevoland farms have evolved in recent decades and used that information, along with expert input, to tune a model that predicted how farms might change in response to global warming of 1–2 ˚C by 2050.
The model also took into account how the world will react to climate change. That part of the model was based on two scenarios developed by the United Nations Intergovernmental Panel on Climate Change (IPCC), specifically the A1 and B2 scenarios. The A1 scenario assumes climate change will be dealt with on a global scale. It predicts that globalization will continue, economic output will rise rapidly, technology will advance apace, and economic and cultural disparity between nations will decline. B2, on the other hand, assumes slightly lower population growth, intermediate economic growth, more regionalization, and more disparity between regions in technological advancements.
Under the A1 globalization scenario, the model predicted continued increases in farm size. Entrepreneurial farms—those that accepted tourists, for example—grew in share substantially, to about 24 percent. Farms with a conservation bent disappeared, and Flevoland's focus shifted from root crops like potatoes to arable crops like wheat or soybeans. The regionalization scenario painted a different picture, in some respects. Farm focus was almost equally divided among production, conservation, and entrepreneurship. Farm size held steady with today's levels, as did intensity and types of crops grown.
Though this study focused on one province in the Netherlands, it details some potential futures. What type of world we become—a globalized, tech-heavy A1, a regionalized B2, or some other vision of the future—will affect how farms adapt to climate change. Some aspects of the future are not entirely under our control—population growth remains an untamed beast, for example. But others are, like crop subsidies and technological progress. Policy has played an important role in the last 40 years, and there's no reason to think that will change. That may seem depressing to some people—subsidies have discriminated against small farms, for example—but it can be heartening, too. Policy is something that remains under our control. That means we can still play a role in determining how we'll get our food in the future.
This study also can also help non-temperate farmers prepare for climate change. By identifying where modern agriculture will likely fall short under certain scenarios, farmers in developing nations can better evaluate whether or not to adopt current methods. Many of them may have missed out on the Green Revolution—especially in Africa—but that may end up being beneficial. Just as some developing nations skipped land lines and went straight to cell phones, farmers unaccustomed to modern production techniques could adopt new methods, approaches that could better prepare them for a changing climate.
Source:
Mandryk, M., Reidsma, P., & Ittersum, M. (2012). Scenarios of long-term farm structural change for application in climate change impact assessment Landscape Ecology, 27 (4), 509-527 DOI: 10.1007/s10980-012-9714-7
Photo by Radio Nederland Wereldomroep.
Related posts:
Spare or share? Farm practices and the future of biodiversity
Coaxing more food from less land