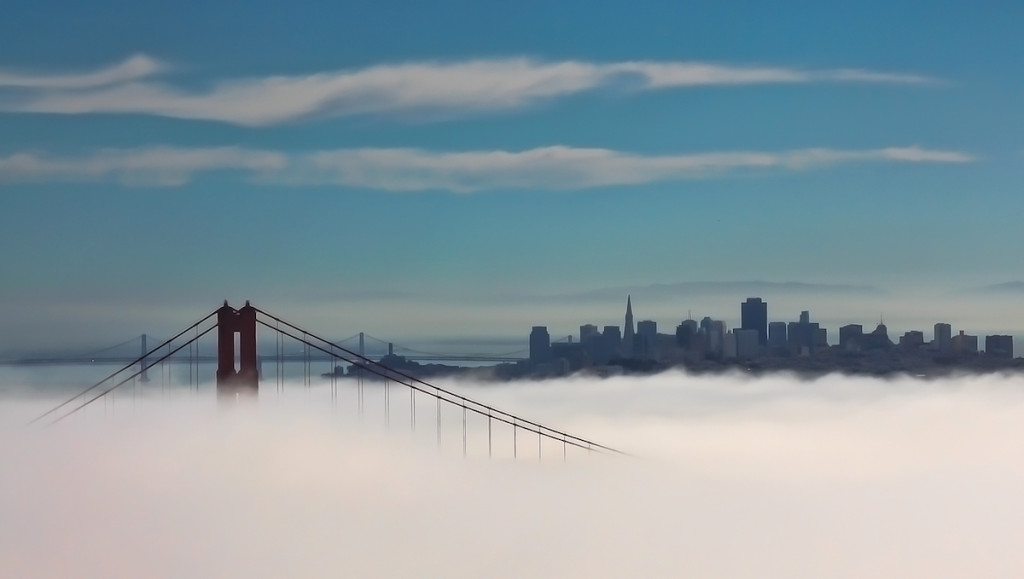 Ten years ago this month, I packed my things, said goodbye to my good friends, and started my trip halfway across the country to San Francisco. When I arrived, I found a city robed in fog and suffused by a cool so damp that only a native San Franciscan would recognize it as summer. I had left Minnesota with some hesitation, and the weather I found there certainly wasn't reinforcing my confidence my decision.
Over the next several months, the weather didn't change much, but my opinion did. Slowly, the city revealed itself. I discovered a city that, once confident, suddenly it wasn't so sure of itself. I could tell that the dot-com boom was still a raw memory. Software engineers still prowled the city, but probably with less confidence than a few years previous and almost certainly with less swagger than today. As a grad student, money was tight for me, but the city in 2004 was still accessible. I ate out on weekends (frugally), frequented bars (that served cheap beer), and hosted barbecues by firing up our stove's broiler and throwing open the kitchen window (outdoor space was a luxury I couldn't afford.)
I lasted ten months in San Francisco before the weight of a 45-minute commute and the draw of grad-school friends finally coaxed me across the Bay to Berkeley. June 2005 was the last time I spent any significant amount of time in the city. Sure, I would return to bars with my friends or spend a few hours at a concert in Golden Gate Park or wander the Haight or North Beach like a good little tourist. But usually I spent just long enough to remind myself why I had moved away—everything was so expensive and there were so many people.
Now, having hopscotched my way across the continent, I'm heading back. Just for a week, but it will be more time than I have spent there in nine years. I've certainly changed—I have a job, for one, and I've now lived in dense cities for over a decade. From what I've been hearing, San Francisco has changed, too. The money that was thrown around before—that turned me off before—has only multiplied. Neighborhoods have gentrified, private buses have proliferated, and old-timers have chafed at the new round of changes. These things have all been well documented in everything from Boom to Gawker to the New Yorker.
But I'm curious to see for myself. I'm wondering if, as a visitor, San Francisco's transformation will be apparent. Is it superficial enough to pick up on in just one week? Has ten years been long enough to throw the city's changes into relief? Or can they really only be understood with a deeper understanding of the place, the sort that requires years to acquire?
My days will be packed with reporting fresh stories for NOVA Next, but my nights will be spent catching up with old friends, revisiting favorite haunts, and getting to know parts of the city I hadn't known that well. I'll be snapping photos, taking notes, keeping my eyes open, and reporting back. Think of it as an amateur ethnography, sketched quickly and by an interested observer. It won't be scientific by any means, but I'll let you know what I find.
Photo by Marc Dalmuder
Related posts: