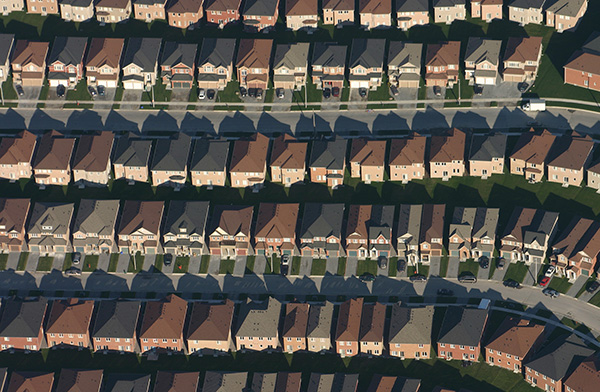 Americans love their privacy. Most aren't keen on high rises or even attached condos, having been imprinted with a very specific American dream—that of a single-family house on a quarter acre lot. I'm one of them. But as populations in cities and suburbs boom, there's simply less land to go around. The result of cramming detached homes into smaller spaces is often comical. With McMansions and McMansion, Jrs. shoulder-to-shoulder, the lots they sit on look like last year's outfit on a six-foot sophomore.
Yet despite the potential aesthetic faux pas, many people want a single-family house. A lone house—never mind the neighbors six feet to the left and right—engenders feelings of independence and privacy. It's self-sufficiency framed in two-by-fours. This is what planners and developers are up against as they struggle to fit more homes onto less land.
Such tight spacing of big houses has always been a bit of a mystery to me. The yards behind sardine houses are clearly more decorative than functional, so what's the point of them? Wouldn't everyone be happier if they lumped their token yards together? The resultant space would be magnitudes larger and more usable. But privacy would suffer. Or would it?
Maybe not. Homeowners feel just as happy and secluded in a single-family house as in a townhouse, so long as they have good views out their windows, according to one survey. The study asked homeowners in two neighboring developments—one with single-family houses and the other with townhouses—how they felt about their homes, their privacy, and their access to open space. Most people were happy, but the most satisfied were those whose views didn't look directly onto the neighbors.
The differences between townhouse owners with views and without views were the most revealing. People with an open view were more likely to say they had enough space and privacy. Naturally, those with good views were also pleased with the way the subdivision was laid out, a trend which was echoed by owners of the detached single-family houses. The happiest people were those with homes that opened out onto undeveloped land like a flood plain or communal open space.
Given American's penchant for privacy, I was surprised that owners of townhouses were more satisfied than owners of detached homes. The townhouses' compact footprints may have given them an advantage. With 12.5 units per acre, the townhouse development was 2.5 times denser than the site with single-family houses. With the remaining space, the developers set aside 3.25 acres of open space. Though their motives for doing so weren't clear—ordinances may have demanded it—it certainly had a positive effect on the way people viewed their own homes.
The market wasn't as kind to the townhouses, however. Owners reported difficulty selling them while single-family houses in the neighboring development were selling like hotcakes. (This was during the mid-1990s.) So although people appear to be happy with attached housing once they've experienced it, most people crave the perceived privacy of single-family houses. Still if you're looking for a home, it's important to keep in mind that a grassy buffer may not be the path to happiness. What we see out our windows may have a larger effect on our sense of space and our happiness.
Source:
Day, L. (2000). Choosing a House: The Relationship between Dwelling Type, Perception of Privacy and Residential Satisfaction Journal of Planning Education and Research, 19 (3), 265-275 DOI: 10.1177/0739456X0001900305
Photo by IDuke.
Related post: