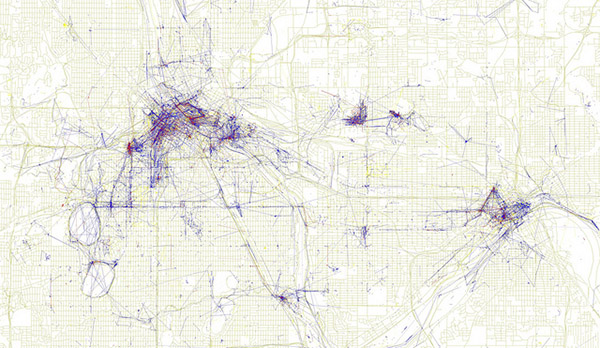 Cities were, for thousands of years, distinct and easily identifiable entities. You were either in the city or in the country. Medieval cities took this to the extreme, building walls to make explicit the distinction. Johann Heinrich von Thünen systematized the idea in 1826 when he sketched a hypothetical map that, when simplified, looked like a bow-and-arrow target. The city sat in the center and was surrounded by rings of successively less valuable farmland. It was all very orderly and very German. And for a while it did a good job describing the relationship between the city and the hinterland.
Then came the railroads and automobiles that shot holes through von Thünen's well-organized bullseye. And in places where two cities were less than a few dozen miles apart, even the boundary between the two became blurred. Today, it's not uncommon to find metropolitan areas with two, three, even four major cities anchoring them.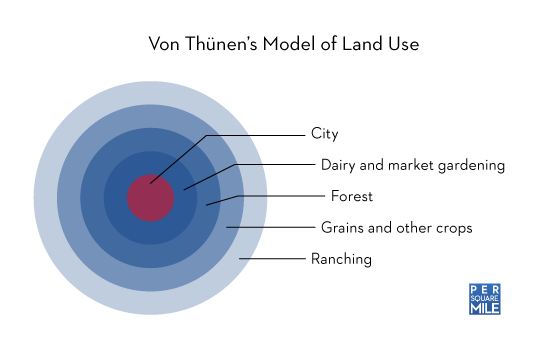 Multi-city metros would seem to be a many-headed monster, riddled with contrary opinions and paralyzed by indecision. But that doesn't alway seem to be the case. As far as labor productivity is concerned, multi-city metros—or polycentric metros, as the literature calls them—may have a distinct advantage. A study of all metropolitan areas in the United States with populations above 250,000 by Evert Meijers and Martijn Burger shows that productivity is higher in metros with more than one city. The effect is especially pronounced among smaller metro areas.
Meijers and Burger speculate that's because smaller cities tend to have smaller problems—less traffic, lower crime rates, and so on. By splitting the problems up among a few cities, polycentric metros can host a large population without experiencing the problems of a similarly sized, monocentric metro.
But the advantages of multi-city metros diminish as the entire area's population grows. It's as though the larger entity needs one place to focus its efforts. So a metro area with two cities, each one-half the size of London, wouldn't necessarily be more productive than London itself.
Multi-city metros also fall short on other critical parts of city life—cultural and leisure opportunities. Cultural outposts like opera houses and art museums benefit greatly from larger populations, which typically contain more benefactors, both wealthy and otherwise. The same goes for sports teams. Every city would like one for themselves. Say Ft. Worth wants to build an art museum. It's probably not going to attract some donors from Dallas, who would rather see one built in their city. Chicago doesn't have such a problem. Monocentric metros don't have to worry about sharing.
As cities' borders swell, multi-city urban agglomerations are probably going to be more and more common. Even within existing metropolitan areas, smaller cities could rise to prominence. Minneapolis and St. Paul, for example, have had to contend with the rise of Bloomington. The key will be for leaders to learn to work together, coordinating efforts rather than stepping on each other's toes.
Sources:
Meijers, E. (2008). Summing Small Cities Does Not Make a Large City: Polycentric Urban Regions and the Provision of Cultural, Leisure and Sports Amenities Urban Studies, 45 (11), 2323-2342 DOI: 10.1177/0042098008095870
Meijers, E., & Burger, M. (2010). Spatial structure and productivity in US metropolitan areas Environment and Planning A, 42 (6), 1383-1402 DOI: 10.1068/a42151
Map of the Twin Cities by the inimitable Eric Fischer.
Related posts:
Why New York City keeps getting bigger