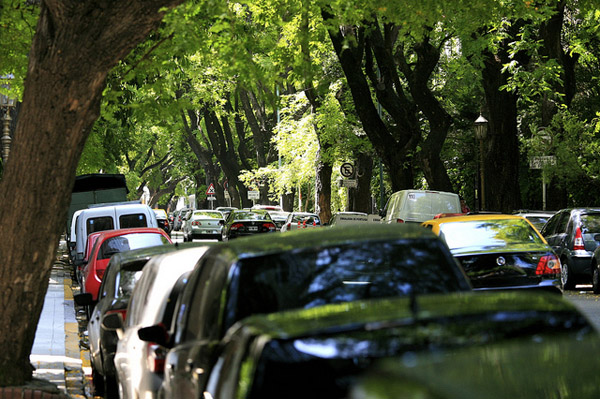 Wealthy cities seem to have it all. Expansive, well-manicured parks. Fine dining. Renowned orchestras and theaters. More trees. Wait, trees? I'm afraid so.
Research published a few years ago shows a tight relationship between per capita income and forest cover. The study's authors tallied total forest cover for 210 cities over 100,000 people in the contiguous United States using the U.S. Department of Agriculture's natural resource inventory and satellite imagery. They also gathered economic data, including income, land prices, and disposable income.
They found that for every 1 percent increase in per capita income, demand for forest cover increased by 1.76 percent. But when income dropped by the same amount, demand decreased by 1.26 percent. That's a pretty tight correlation. The researchers reason that wealthier cities can afford more trees, both on private and public property. The well-to-do can afford larger lots, which in turn can support more trees. On the public side, cities with larger tax bases can afford to plant and maintain more trees. Given the recent problems New York City has had with its aging trees dropping limbs on unsuspecting passers-by—and the lawsuits that result—it's no surprise that poorer cities would keep lean tree inventories.
But what disturbs me is that the study's authors say the demand curve they see for tree cover is more typical of demand for luxury goods than necessities. That's too bad. It's easy to see trees as a luxury when a city can barely keep its roads and sewers in working order, but that glosses over the many benefits urban trees provide. They shade houses in the summer, reducing cooling bills. They scrub the air of pollution, especially of the particulate variety, which in many poor neighborhoods is responsible for increased asthma rates and other health problems. They also reduce stress, which has its own health benefits. Large, established trees can even fight crime.
Fortunately, many cities understand the value trees bring to their cities. New York City is aiming to double the number of trees it has to 1 million. Chicago has planted over 600,000 in the last twenty years.¹ And London has been working to get 20,000 new trees in the ground before it hosts the Olympics.
But those cities are relatively wealthy. It's the poorer ones that probably need trees the most but are the least able to plant and maintain them. The Arbor Day Foundation is a great resource in those cases, but like many non-profits, it is stretched too thin. Compounding the inequality is the fact that most tree planting programs are local. Urban forestry has sailed largely under the federal government's radar. The U.S. Forest Service does have a urban and community forestry program, but is woefully underfunded, having only $900,000 to disperse in grants. Bolstering that program could help struggling cities plant the trees they need. After all, trees and the benefits they provide are more than just a luxury.
---
Though like many of Chicago's boasts that number was probably inflated by including replacement trees. ↩
Source:
Zhu, P., & Zhang, Y. (2008). Demand for urban forests in United States cities Landscape and Urban Planning, 84 (3-4), 293-300 DOI: 10.1016/j.landurbplan.2007.09.005
Photo by Alex E. Proimos.
Related posts:
Income inequality, as seen from space